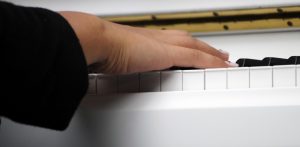 Playing the piano is a wonderful experience.  Here at Larimer Music, you can choose the type of lesson you would like to receive.  Perhaps your goal is to be able to play familiar classics by Beethoven and Mozart, or to accompany yourself while you sing the latest pop song by Adele or Sam Smith, or maybe you simply want to learn to play chords and become a member of your church's praise band.  Whatever your musical goal is,  we will discuss at your first complimentary lesson. After we determine your piano goals, we will develop a plan as to the best method to use to reach your goals.
Larimer Music uses a variety of teaching methods to help students reach their piano-playing goals. With young children, music themed games and theory worksheets are implemented to keep the student interested and create a "fun" environment for lessons.  Traditional piano lesson books are used as well but are supplemented with current music that is widely available for free.  Older children, teens, and adults may use traditional piano lesson books geared for the older learner but may also learn how to play chords and improvise if desired.
Whatever your goal or your goal for your child, remember the first lesson is absolutely free with no obligation to continue lessons.  This gives student, parent(s), and instructor a chance to get to know one another and form a plan to create beautiful music!