This year we asked our students 12 and younger to participate in a paper pumpkin decorating contest to help make our music studio more festive for Halloween.  All of the pumpkins were creative and fun, however we had to select a winner.  Since we wanted an impartial judge who didn't know the students, we allowed our 5 year old granddaughter to pick her favorite as the winner.  Kate's pumpkin (bottom right) was chosen.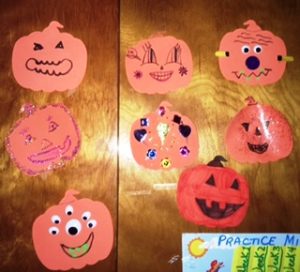 Kate won a gift bag of treats.  Congratulations Kate!

All the pumpkins are up in our music studio, and the best part of all is that they can be used again and again at Halloween, and we will have a remembrance of our wonderful students for years to come.  Thank you students for participating in the contest and making our music studio Halloween ready!